April 16, 2023
Clarity achieved by studying a unique family with an insulin gene mutation.
A large family with a rare genetic mutation has given researchers a clearer understanding of the process that causes the pancreas to shrink in people with type 1 diabetes.
"Until we worked with this family, we didn't have an answer to the question of why the pancreas is so small in people with type 1 diabetes," said Jordan Wright, M.D., Ph.D., an endocrinologist at Vanderbilt University Medical Center. "Now we know that insulin deficiency is a major reason."
A Puzzling Situation
Type 1 diabetes is an autoimmune disease in which the immune system specifically destroys the pancreatic beta cells that produce insulin.
"The pancreas is surprisingly small in people with type 1 diabetes," Wright said. "It's typically about 40 percent smaller than in people without diabetes. This is surprising because beta cells compose less than 2 percent of the total pancreas. Thus, in some way, the disease process must also involve the exocrine portion of the pancreas, which is made up of cells that produce digestive enzymes."
Mice Models Insufficient
"We wanted to determine if the smaller pancreas size in diabetes is a result of insulin deficiency or if the inflammation and autoimmune attack that causes type 1 diabetes also affects the exocrine cells," Wright said.
Previous attempts to resolve this issue using mouse models of diabetes had not panned out because in diabetic mice the pancreas does not shrink.
"The mouse just isn't a useful model for understanding this specific aspect of diabetes," Wright said.
To address this question, Wright's team, which included pediatric endocrinologist Daniel Moore, M.D., Ph.D., of Vanderbilt and Jack Virostko, Ph.D., of the University of Texas, reached out to researchers at the University of Chicago's Kovler Diabetes Center. Under the leadership of a group which includes Siri Atma White Greeley, M.D., Ph.D., that center has, over many years, developed a database of families and individuals with rare forms of genetic diabetes.
"We asked them if they had anyone with clear insulin deficiency without autoimmunity, so we'd be able to isolate the features of the disease to see what was affecting the size of the exocrine pancreas," Wright said.
Finding an Ideal Family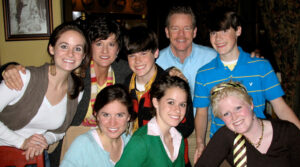 Included in the database were members of a large Alabama-based family comprised of parents in their 60s and six children in their 30s. The father, who was diagnosed with diabetes in his 20s, and three out of six of the children, diagnosed with diabetes as infants, carry a mutation in the gene that produces insulin.
"The mutation they have causes the beta cells to make abnormal insulin, so they have an insulin deficiency without autoimmune causation," Wright explained.
The investigators were able to use the family members without diabetes as control subjects.
"Everything aligned. It was a perfect case of having related controls to compare with the individuals who had diabetes," he said. "We were thrilled to find this family with the right type of diabetes and the right sized group to study."
He says the family, in turn, was "very excited and interested and happy to help by participating in the study."
"We were thrilled to find this family with the right type of diabetes and the right sized group to study."
Some of the family members live in Tennessee, not far from Vanderbilt, and each one came to the medical center's imaging center to undergo MRIs of their pancreas.
Family members also submitted urine samples for a C-peptide test after eating the same meal together. That test allowed the researchers to measure each person's ability to make insulin after eating and confirmed that all family members with diabetes had severe insulin deficiency.
Finding an Answer
The MRIs confirmed that the four members of the family with diabetes each had a much smaller pancreas than those without diabetes.
"Combined, the family's test results on the MRI and C-peptide test confirmed that the insulin deficiency alone is enough to cause the smaller pancreas seen in type 1 diabetes," Wright said.
"Insulin deficiency alone is enough to cause the smaller pancreas seen in type 1 diabetes."
Although there may be some direct effect of autoimmunity and inflammation on the exocrine pancreas, the major driving factor is insulin deficiency, he added.
Screening Possibilities May Expand
"Our group and others have previously found that the reduction in pancreas size likely begins well before the clinical diagnosis of type 1 diabetes," Wright said. "There may be some degree of insulin deficiency much earlier than we thought. We would like to know if pancreas size can be used to identify people at highest risk of the disease as early as possible, to guide treatment and prevention decisions."
The potential advantages of earlier screenings are enlarged by the FDA's recent approval, in November 2022, of teplizumab. It's the first approved medication that can delay the onset of type 1 diabetes.