July 28, 2021
New studies take crucial steps toward transplanting retinal ganglion cells.
Two translational studies at the Vanderbilt Eye Institute are targeting photoreceptors and retinal ganglion cells (RGCs) to restore vision through regeneration of the retina. The research is funded by separate, five-year grants from the Audacious Goals Initiative (AGI), an ongoing program of the National Eye Institute.
Vision loss due to RGC death is irreversible, leading to blindness in a high percentage of diagnosed patients. Vision restoration through cell replacement therapy, a major focus of the AGI, could be a potential solution.
"The ultimate goal is to inject these stem cell-derived ganglion cells into the eye, form connections and really integrate into the retina," said David Calkins, Ph.D., Denis M. O'Day Professor, vice chair and director for research at the Vanderbilt Eye Institute. He is leading an AGI U24 grant to develop translation-enabling models for evaluating survival and integration of regenerated photoreceptors and RGCs.
Developing Human-Relevant Models
Calkins and colleagues at Stanford University will seek to establish and validate a squirrel monkey glaucoma model, studying key structural and functional measures using innovative modalities that should be portable between monkey and human, and demonstrating the model's ability to move across institutions.
"The ultimate goal is to inject these stem cell-derived ganglion cells into the eye, form connections and really integrate into the retina."
"We hope to develop systems that are closer to human visual anatomy, function and disease than current models," Calkins said. "Rodent models are limited by critical differences in retinal physiology, and proof of concept in non-human primates would greatly increase confidence and aid in therapeutic development before moving to human testing." 
Model validation will be accomplished in the study of RGC transplant: differentiation, migration, local integration and synapse formation, growth down the optic nerve and targeting to distal brain nuclei. A variety of quantitative measures will be used to demonstrate circuit integration and restoration of visual function. "This is a crucial step toward testing regenerative therapies in clinical trials," Calkins said.
Tonia Rex, Ph.D., associate vice chair for research at the Vanderbilt Eye Institute, is lead principal investigator on another U24 grant. The objective of her study is to optimize allogeneic transplantation of induced pluripotent stem cell derived RGCs in two different models of optic neuropathy.
AGI U24 grants are designed to be highly collaborative across institutions. "No single lab can do all of this," Rex said.
Rex's colleagues at Harvard University are developing and characterizing pluripotent stem cells that could be converted either into eye organoids or directly to RGCs. The University of Alabama at Birmingham is providing tree shrews, which the team is using to model glaucoma and neurotrauma. The species has many features that make it human relevant.  
"Understanding the pathophysiologies of these two optic neuropathies is going to be important to the success of the cell replacement therapy," Rex said. "There are a lot of challenges to overcome, but the exciting thing is how much we have learned as a field and how many tools we now have available to make it actually feasible."
In characterizing the two models, the investigators will quantify changes in cytokine levels, glial reactivity, axon degeneration and RGC death over time.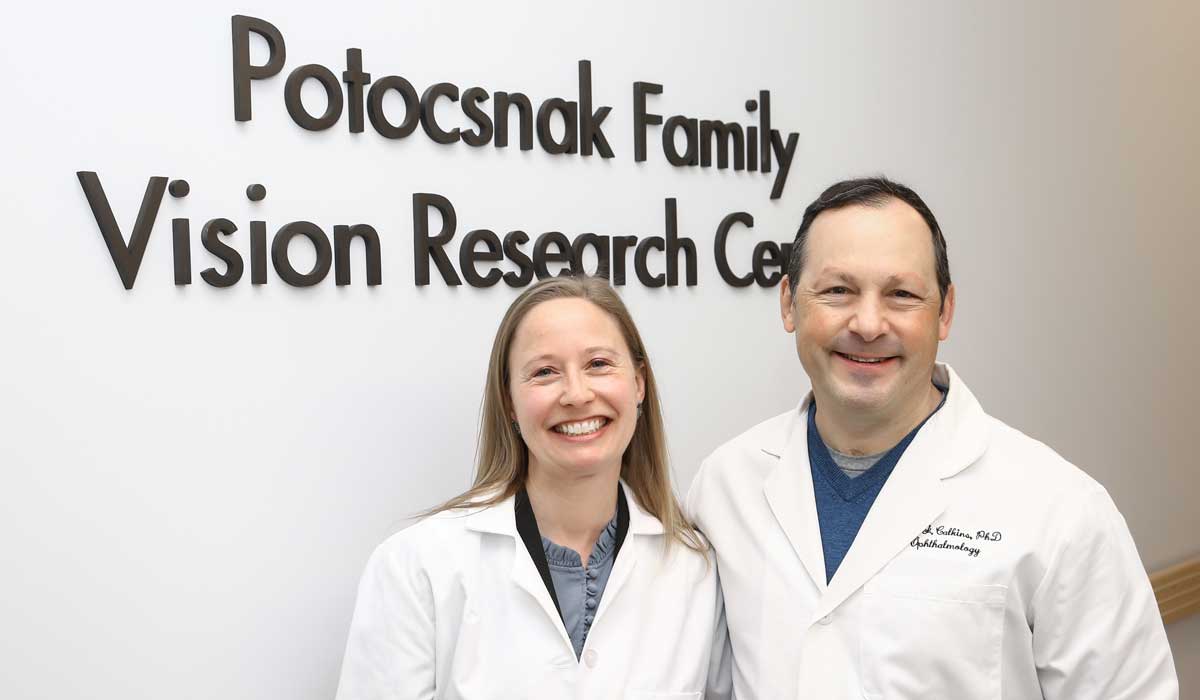 Optimizing Transplantation
"Using two different models of optic neuropathies is critical because the retinal environments may not be the same between the two; cells may survive differently in each condition," Rex explained. For example, she says, in glaucoma there may be a wider window within which to transplant the cells effectively than in trauma, where many changes are happening in a short timeframe and cells would need to be transplanted quickly.
"This is a crucial step toward testing regenerative therapies in clinical trials."
The goal is to optimize transplantation of these cells in both models, says Rex. "How should we inject them; where should we inject; how can we ensure optimal survival? If they're in the right location, will they spontaneously form the appropriate connections, or do we have to inject growth factors to further stimulate that response?"
"Additionally," she said, "there are many different types of RGCs and we need to represent that when delivering them, so we need to figure out that piece out as well."
Fostering Collaboration
Investigators from AGI-funded grants meet several times a year to encourage collaboration among groups. In addition to their inter-institutional collaborations, Rex and Calkins will collaborate internally.
"The fact that Dr. Calkins and I are working on the same thing, we can do that fairly freely," Rex said. "We are building on each other's strengths and helping each other with our projects."