February 09, 2021
Vanderbilt's data-driven, systems approach aims for meaningful change.
Health systems face a wide and daunting gap between recognizing that racial and ethnic minorities are suffering disproportionately from COVID-19 and adequately equipping themselves to change those inequities, says Consuelo Wilkins, M.D., vice president for health equity at Vanderbilt University Medical Center.
"Health system leaders must do more than set broad goals. They must develop specific, measurable objectives and implement strategies that will successfully address these striking health inequities," Wilkins said.
At Vanderbilt, Wilkins is leading an effort to coordinate the full resources of the health system to improve identification of and response to COVID-19 care inequities. The group recently outlined its systems approach in NEJM Catalyst. Wilkins, a geriatrician, also recently earned the high honor of being one of the few physicians in that specialty elected to the National Academy of Medicine.
"Health system leaders must do more than set broad goals."
Five Strategic Workstreams
In March, Vanderbilt leaders established a COVID-19 Command Center to address the myriad issues they would face in the coming months. Looking across the health system, the group identified five strategic areas that represented key parts of how the system responded to COVID-19 in vulnerable communities: risk communication, testing, clinical care, clinical trials, and telehealth.
Within each area, the team assembled subgroups of Vanderbilt peers with relevant expertise and decision-making authority. The result was a comprehensive, tactical plan for COVID-19 response that included both patients and Vanderbilt employees.
The team decided to focus not only on racial and ethnic minorities, but also individuals with limited English proficiency (LEP). Early on, what surprised them most was that they lacked race, ethnicity, and language (REAL) data on many of those coming to Vanderbilt for testing,
"Once we uncovered that, we began to systematically fill the gaps and evaluate how testing and clinical care varied across groups and geographic areas," said Sunil Kripalani, M.D., a professor of medicine at Vanderbilt and a co-author of the new report.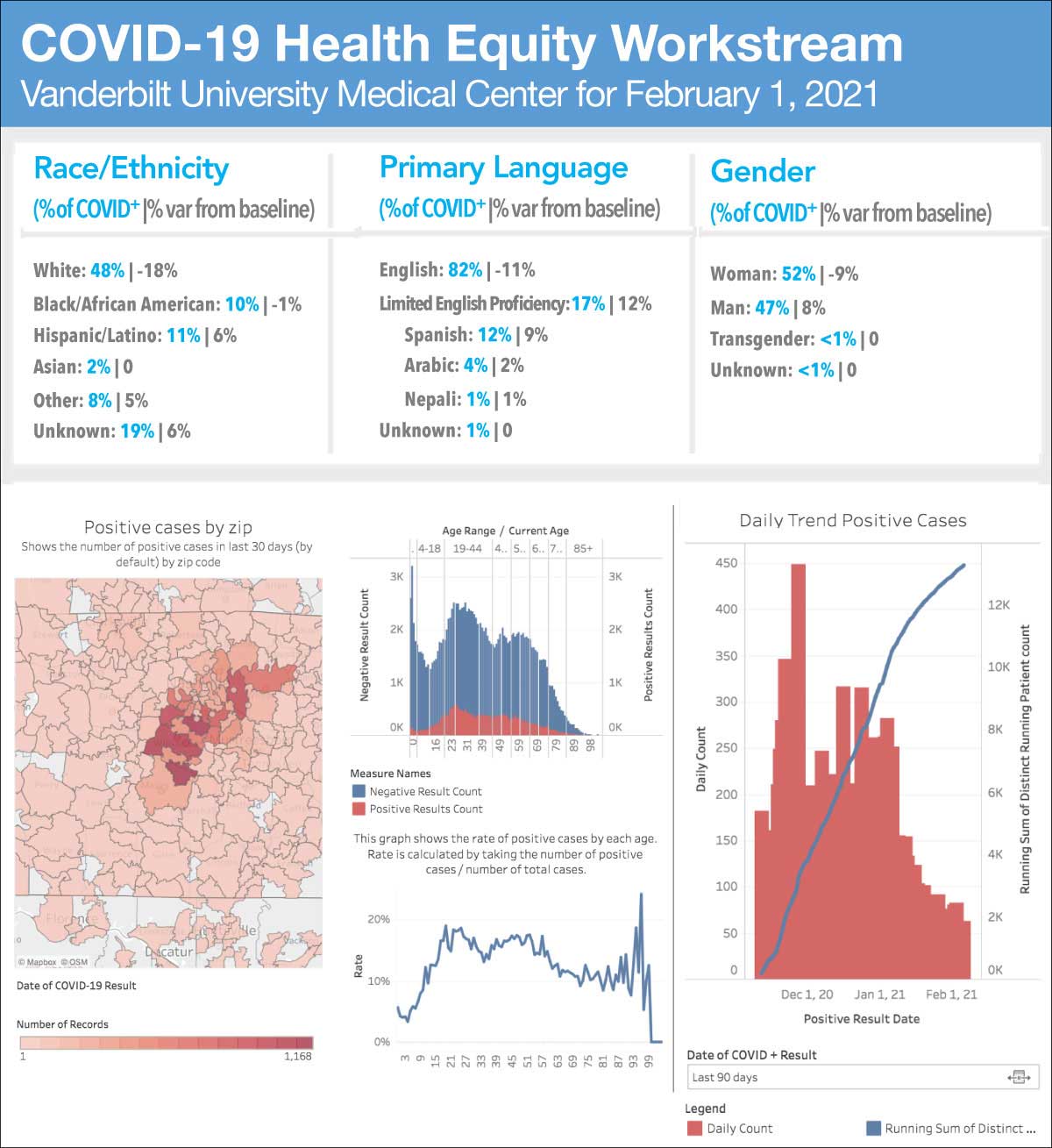 Beyond the EHR
The equity team used the most reliable information currently available in the EHR to disaggregate REAL data. A unique dashboard system was developed, allowing a dynamic, interactive view of COVID-19's impact on vulnerable communities. The dashboards can be filtered by race, ethnicity, primary language, and ZIP Code, and are linked to community-level socioeconomic data.
Of the first 45,954 patients tested for SARS-CoV-2 at Vanderbilt, 2,310 had LEP. The virus positivity rate for patients with LEP was 26 percent compared with 6 percent for patients with English as a primary language.
In addition to alerting local and state health departments of these higher rates, Vanderbilt created multilingual resources, assessed its interpreter services capacity, and engaged trusted community organizations.
Key Lessons
Wilkins hopes the lessons learned at Vanderbilt may help others implement a systems approach to COVID-19 and begin addressing health equity more broadly. She recommends:
Executive leaders should clearly state that achieving health equity is a priority and allocate resources, including people, to do this important work;
Health equity-related goals and programs should be integrated into the health system's organizational readiness and response with clear expectations for accountability and action;
Race, ethnicity and language (REAL) data must be available in real time, and new processes may be needed to collect and aggregate accurate data;
Including a wide range of clinical, administrative, and operations leaders, some of whom have limited knowledge of health equity, could facilitate culture change and different ways of advancing health equity in the long term; and
Health systems must work closely with public health departments and trusted organizations.
"Exposure of leaders throughout the system to health equity strategies could facilitate culture change and promote different ways of advancing health equity in the long term," Wilkins said.