February 03, 2021
New camera provides stable, unobstructed view of surgical field.
A lightweight camera designed to be worn around a surgeon's neck provides videos of operations, including open procedures, and is serving as a resource to enhance the training of surgical residents and for quality improvement initiatives.
"Up until now, surgical video has mostly been limited to videoscopic or microscopic procedures — there really hasn't been a great way to record procedures performed through open incisions," said Alexander Langerman, M.D., an associate professor of medicine at Vanderbilt University Medical Center and director of the Surgical Ethics Program in the Vanderbilt Center for Biomedical Ethics and Society.
Langerman has developed the new wearable camera over the course of the last three years, in collaboration with Vanderbilt colleagues in the Department of Engineering and the Vanderbilt Institute for Surgery and Engineering.
Taking a Different View
Existing wearable cameras for open surgery are designed to be worn on the head. "Those cause neck strain and the video quality is shaky due to frequent movement of the head," Langerman explained. Boom- and light-mounted cameras can also be used to record, but as members of the surgical team lean over the surgical field or change position, their heads or hands often obstruct the camera's field of view.
In contrast, the camera developed by Langerman (dubbed Cleopatra) is worn around the neck over a surgical gown, and can be maintained in a stable position, thus producing better footage.
"The new camera provides a stable, first-person, unobstructed image of the surgery," Langerman said. "People find the camera so comfortable that they forget that they are wearing it."
"The new camera provides a stable, first-person, unobstructed image of the surgery."
Langerman's team has a patent pending on the mechanism that allows the surgeon to interact with the camera. "I also imagine that someday we will develop a system that will allow the surgeon to dictate the procedure as it is happening," he said. "Having that kind of audio to go along with the visuals will serve as an objective, useful operative report."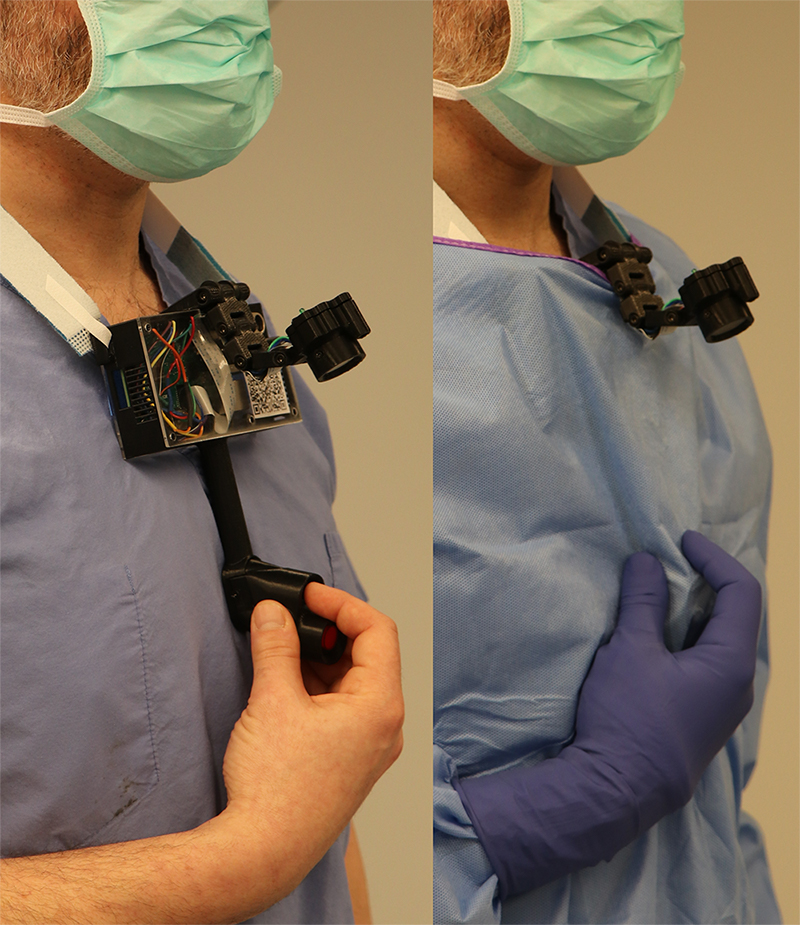 Instant Debriefings Foster Learning
The high-quality video makes possible an immediate debrief with a resident, helping the trainee to understand what went well during a procedure, and what could have gone better. Langerman likens the video to a Monday night football instant replay.
"I may show a resident an easier way to approach a certain vessel or point out that they pulled on a certain muscle harder than was necessary, and can proceed more gently," he said.  Residents often report that they find these debriefings helpful, he added.
"I also imagine that someday we will develop a system that will allow the surgeon to dictate the procedure as it is happening."
"I was able to enhance my learning significantly after reviewing the video with my surgeon attending immediately after surgery," said Ankita Patro, M.D., a third-year resident. "I hope that videos will be widely available in the operating room in the near future," she added.
Disseminating Knowledge Globally
The camera promises to allow the creation of a video library of open surgical procedures, a long-standing goal of the Vanderbilt Head and Neck Surgery group. That library will allow surgeons anywhere to observe experts performing procedures, including exceptionally challenging ones. "We're putting in place the structures and protections necessary to allow us to begin saving these videos and using them for training and research," Langerman said.
While surgical videos have the potential to enhance both patient safety and performance research, they come with a host of privacy, data use and ethical concerns – topics Langerman is studying in a partnership with the International Center for Surgical Safety, where he serves as an affiliated scientist.
His team is organizing an online conference to be held in May 2021 that will explore certain legal and social barriers that are holding back the widespread use of surgical videos. For more information on the conference, visit surgicalrecording.org.
"This virtual world we're living in is helping us find better ways to share medical knowledge with other surgeons around the world and enhance our overall performance as a profession," Langerman said.