January 27, 2021
Cardiac MRI findings support long-term surveillance.
In an important early look at COVID-19 sequelae, a study in JAMA Cardiology found that well over half of an adult COVID-19 cohort had hallmarks of myocarditis, as evidenced on cardiac MRI (CMR). With myocarditis a leading cause of sudden cardiac death among U.S. competitive athletes, this news got the attention of athletic departments, athletes and parents alike. The study prompted a team of cardiologists and sports physicians at Vanderbilt University Medical Center to design a study, recently published in Circulation, focused on young athletes.
Daniel Clark, M.D., a clinical instructor of cardiovascular medicine at Vanderbilt, was first author on the athlete study, overseen by co-primary investigators Sean Hughes, M.D., director of cardiac MRI at Vanderbilt, and Jonathan Soslow, M.D., director of the pediatric cardiac imaging research center at Monroe Carell Jr. Children's Hospital at Vanderbilt.
The researchers report low rates of COVID-19-related myocarditis in young athletes, but concerning sequalae. "Our findings add valuable input to the conversation about myocarditis and COVID-19," Soslow said. "They also suggest that CMR may have a more important role in diagnosis and return-to-sport decisions than originally thought."
"Our findings suggest that CMR may have a more important role in diagnosis and return-to-sport decisions than originally thought."
CMR's Window into Myocarditis
Clark and colleagues analyzed CMRs on three groups of young adults – 59 athletes with COVID-19, 60 athletes without COVID-19 (athletic controls), and 27 non-athletes without COVID-19 (healthy controls). The rate of myocarditis was only 3 percent in the group of COVID-19-positive athletes, all of whom had an asymptomatic or mild disease course. This, Clark explains, is a reassuringly lower rate of COVID-19-related myocarditis compared with the rate of 60 percent reported in JAMA Cardiology, in which the cohort studied had an average age of 49 and significant comorbidities.
The team has continued their study, now performing over 120 CMRs on collegiate athletes recovering from COVID-19. Rates of myocarditis are slightly higher but have not significantly diverged from the percentage reported in their publication, Clark says.
Unexpectedly, the Vanderbilt researchers discovered the presence of heart scarring in many of the CMRs. This was localized to a specific, small region of the heart and found in a nearly identical proportion of COVID-19 positive and COVID-19 negative athletes (22 and 24 percent, respectively). This scar area involved less than 1 percent of the myocardium and did not appear likely to impact pump function.
"The good news from our studies is that myocarditis may not be as prevalent as thought and that the small area of scarring observed may be from athletic remodeling, not the virus," Clark said. "The concerning news is that some athletes who develop COVID-19-induced myocarditis appear to have sequelae of arrhythmias and systolic dysfunction."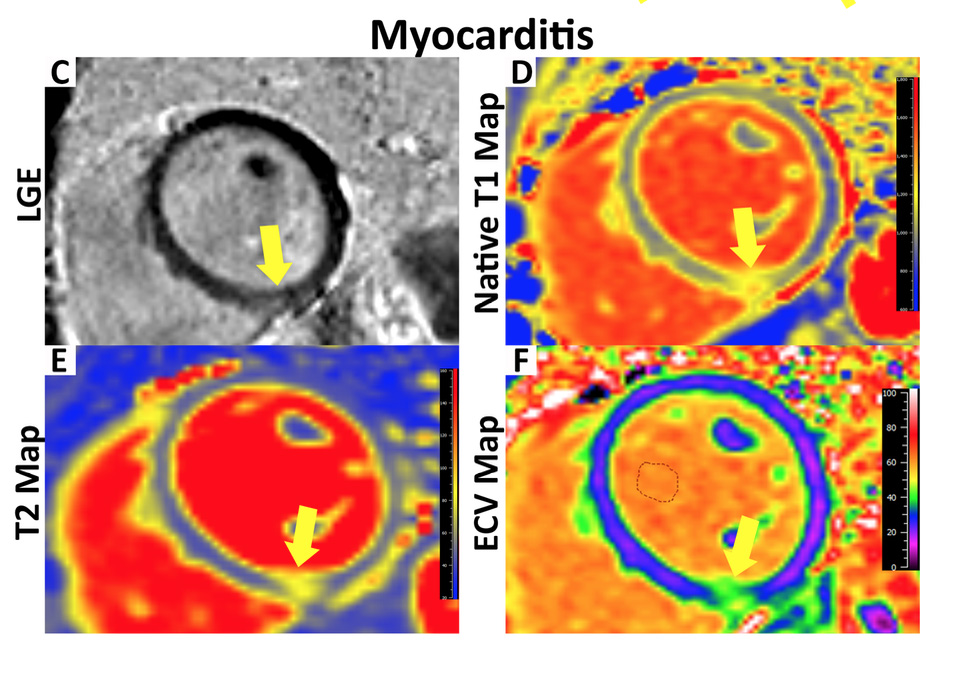 Serious Sequalae in the Few
Clark says one of the athletes still had active myocarditis two to three months out from initial infection with SARS-CoV-2, which is unusual. "Usually, that edema and inflammation subside within three weeks in cases of viral myocarditis," he said. "This athlete developed declining heart function, chest pain, shortness of breath and exertion intolerance weeks after testing positive for COVID-19."
"Usually, that edema and inflammation subside within three weeks in cases of viral myocarditis."
Some of the other athletes who had myocarditis are still experiencing exertional limitations and runs of non-sustained ventricular tachycardia. "Some of the evidence is anecdotal, but not easy to dismiss. One runner told me, 'I could run two miles in 13 minutes pre-COVID, and now it takes me 24 minutes,'" Clark said.
"What we are seeing so far is a real phenomenon of chronic sequelae of myocarditis from this particular virus," Clark said. "We suspect that the longer a patient has active inflammation and edema, the greater the risk of significant long-term consequences, as with other inflammatory conditions of the heart muscle."
Expanding on Study Participants
Clark is quick to add that this is a small number of cases. "It may not be until next season before our athletes get the vaccine. We wanted to study these images and inform the scientific community as soon as possible on what we are seeing," Clark said.
He says ongoing investigation is necessary to further phenotype the cardiovascular manifestations of COVID-19 in all stages of the disease. "Everything from the potential limitations in athletic performance to arrhythmia, heart failure, and sudden cardiac death – both in athletes and the general population – need to be looked at in larger, multicenter studies," Clark said.