October 21, 2020
A trio of clinical trials is assessing CGM in distinct patient populations.
Three clinical trials are testing whether continuous glucose monitors (CGMs) can outperform traditional blood glucose monitoring for patients with type 1 and 2 diabetes. The trials will assess CGM efficacy in distinct populations and provide a breadth of data to inform their use.
"These studies will hopefully help broaden CGM usage and indications currently approved by the FDA and U.S. insurance companies," said Shichun Bao, M.D., Diabetes Technology Program Leader at Vanderbilt University Medical Center. Bao is principal investigator on two of the trials. Jordan Wright, M.D., an instructor at Vanderbilt, is principal investigator on the third, an inpatient trial on which Bao serves as faculty advisor.
"These studies will hopefully help broaden CGM usage and indications."
Limited Use 
CGMs have revolutionized diabetes care, enabling patients to skip finger pricks and even track glucose levels in real-time on their smartphones. However, Bao says CGMs are generally only recommended for patients with type 1 diabetes, or other types of diabetes that require multiple daily insulin injections or an insulin pump in an outpatient setting.
Some providers are reticent to employ CGMs for other patients due to a lack of clear, agreed-upon guidance regarding use of the tech. The latest trials could provide data necessary for consensus.
The MOBILE Trial
The Vanderbilt Diabetes Center is one of 15 study sites for the observational MOBILE trial, which focuses on CGM use in type 2 diabetes basal insulin users who follow a primary care physician for diabetes management. The CGM being tested is the Dexcom G6®.
Adult patients (over 30 years old) are randomized to either the CGM system or finger stick blood glucose monitoring. Then, Bao and other investigators assess the benefit of CGM use on glycemic control over an eight-month period. During the next six months, the researchers assess if glycemic control worsens upon withdrawal of CGM.
"The study has already enrolled 166 participants and a manuscript is forthcoming," Bao said.
The COACH Trial
Bao's second trial, the COACH trial, is a multicenter post-approval study for non-adjunctive use of the same Dexcom CGM system in type 1 or insulin-requiring type 2 diabetes.
The trial will enroll over 1,300 adult and pediatric patients. Each participant will serve as their own control, use finger stick blood glucose monitoring for six months, followed by six months of CGM use. Researchers will assess the benefit of CGM use in reducing hypoglycemia and diabetic ketoacidosis.
"COACH will help us confirm the safety of Dexcom's CGM system for making treatment decisions." Bao explained.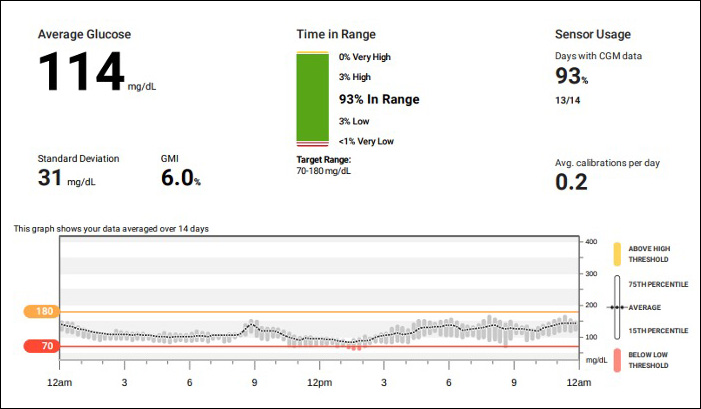 A Dexcom CGM report, allowing researchers to assess glycemic control over a 14-day period.
Inpatient CGM Research
In addition to the two outpatient studies, Vanderbilt is conducting an inpatient CGM trial. The study will assess the accuracy of the 14-day FreeStyle Libre CGM in hospitalized non-intensive care adult diabetic patients. Over 40 patients have been enrolled so far, Bao said.
Participants will undergo traditional finger stick blood glucose monitoring four times a day (before meals and at bedtime) in addition to using the CGM. The investigators will assess the accuracy of the CGM on glucose monitoring in comparison to point-of-care finger stick methods.
"We're interested to see if inpatient CGM use is safe and accurate, which could have significant implications during the COVID pandemic, to reduce health care worker exposure, conserve PPE and maintain or improve glycemic control," Bao said.
A Comprehensive Picture
Together, the trials are expected to paint a comprehensive picture of CGM utility across patient populations. Positive results could encourage more providers to consider CGM tech.
Bao notes that while CGMs offer obvious benefits for glycemic control, they may also provide other key health data. A recent case report from the Vanderbilt team described how use of a CGM led to diagnosis of hemoglobin C trait in a 49-year-old patient, by identifying when HbA1c values were falsely elevated.
Said Bao, "Hopefully these advanced technologies can be enjoyed by the majority of diabetic patients, rather than just a minority. They offer benefits we are only beginning to uncover."