September 30, 2020
Early studies suggest the scavenger molecule offers multiple cardiovascular benefits.
For decades, HMG-CoA reductase inhibitors (statins) have been a critical weapon for lowering low-density lipoprotein (LDL), thereby lowering risk of heart attack and stroke. While powerful, statins still leave some individuals with residual risk of cardiovascular events. Recent studies suggest that dysfunctional high-density lipoprotein (HDL) contributes to this risk.
Researchers at Vanderbilt University Medical Center are finding that a scavenger molecule called 2-HOBA (2-hydroxybenzylamine) could selectively target the lipid dicarbonyls that may contribute to making HDL dysfunctional. Studies in mouse models showed that 2-HOBA captured and neutralized two key dicarbonyls – isolevuglandins (IsoLG) and malondialdehyde (MDA) – and reduced atherosclerosis without reducing blood cholesterol levels.
"These studies allowed us to rigorously test our hypothesis that the scavenging of reactive carbonyls with 2-HOBA provides protection from atherosclerosis," said Sean Davies, Ph.D., an associate professor of pharmacology at Vanderbilt and a senior author of the most recent study, published in Nature Communications.
"We found multiple antiatherogenic therapeutic effects that likely contribute to its ability to reduce the development of atherosclerosis in hypercholesterolemic mice," added MacRae F. Linton, M.D., director of the Vanderbilt Lipid Clinic and principal investigator on the study.
Impact on HDL and Lesion Formation
Over 16 weeks, three groups each of female and male mice with familial hypercholesterolemia (FH) were fed a Western diet and given either water alone, water with 4-HOBA (inactive relative of 2-HOBA) or water with 2-HOBA. Female mice treated with 2-HOBA demonstrated 31 percent less proximal aortic atherosclerosis than the control groups. En face analysis of their aortas also showed 60 percent less atherosclerosis. Male mice demonstrated dramatic margins, as well.
Additional findings underlie the lower atherosclerosis:
Inhibited cell death, resulting in 74 percent lower necrotic core formation in lesions;
Reduced MDA and IsoLG adduct content in atherosclerotic lesions;
Reduced MDA-modified LDL and HDL; and
Improved HDL function in reducing macrophage cholesterol stores.
"2-HOBA suppressed the characteristics of vulnerable plaque formation and promoted formation of features of stable plaques in the hypercholesterolemic mice," Linton said. The more stable plaques were evidenced by lesion collagen content and fibrous cap thickness that were both over two-fold greater in the 2-HOBA groups than in the control groups.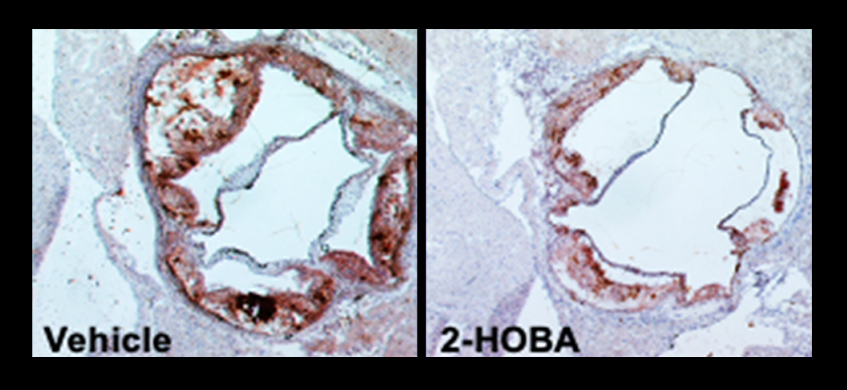 2-HOBA: Unique Benefits
The study showed that 2-HOBA reduced atherosclerosis by selectively scavenging reactive lipid dicarbonyls. 2-HOBA did not affect plasma total cholesterol levels or triglycerides, nor were improvements due to general inhibition of lipid peroxidation or metal ion chelation.
Beneficial effects include helping prevent foam cell formation, inflammation, immune cell activation and cellular oxidative stress and toxicity, preventing LDL oxidation and maintaining endothelial barrier function.
Importantly, 2-HOBA enhances the ability of HDL to promote cholesterol efflux. Previous studies led by Davies and Linton showed that modification of HDL by dicarbonyls caused HDL to lose its ability to promote cholesterol efflux. Blocking these modifications with 2-HOBA allows HDL to maintain this activity.
2-HOBA also avoids a major drawback to antioxidant therapy. "Very intense antioxidant therapy to prevent lipid dicarbonyl formation interferes with important signaling functions of reactive oxygen species," Davies said. "In contrast, 2-HOBA prevents the damage caused by lipid dicarbonyls without altering reactive oxygen species."
The findings complement related work at Vanderbilt showing 2-HOBA scavenges IsoLG and reduces damage caused by oxidative stress, preventing atrial fibrillation.
Next Steps
"Based on our findings, it is certainly possible that reactive dicarbonyl scavenging through 2-HOBA represents a therapeutic approach for preventing and treating atherosclerosis in humans," Linton said. Recent phase 1 studies with 2-HOBA have demonstrated its safety in humans, setting the stage for a phase 2 clinical trial.
"Based on our findings, it is certainly possible that reactive dicarbonyl scavenging through 2-HOBA represents a therapeutic approach for preventing and treating atherosclerosis."
"We plan to do phase 2 studies to test the hypothesis that 2-HOBA reduces modification of HDL and improves HDL function in humans with FH and in subjects with asymptomatic coronary artery disease without FH," Linton said.