June 05, 2019
Tackling the robotics knowledge gap in residency curricula.
The mainstreaming of robotic surgery has overcome early skepticism about the need to train residents on robotic systems. In 2002, only 23 percent of general surgery residency program directors prioritized developing a robotics curriculum. In 2018, support for formalized robotics training had climbed to 63 percent.
While attitudes have changed, few programs have met the goal of integrating robotics training into their residency curricula. Barriers include cost, lack of faculty availability, need for dedicated program time for simulation, facility needs and equipment. Residency directors who place a high value on developing robotics curricula often do not practice robotic surgery themselves.
"For many residents, for many programs, there is a huge gap in implementing education for new technologies like robotic surgery," said Erin Gillaspie, M.D., assistant professor of thoracic surgery at Vanderbilt University Medical Center. Gillaspie has led design of a unique robotics training program at Vanderbilt that is open to all surgical residents and fellows. She hopes the program's thoughtful approach to curriculum and multispecialty collaboration can surmount the barriers to implementing robotics training.
Necessity Drives Invention
Gillaspie came to Vanderbilt in 2016 already experienced in robotic surgery on the Intuitive da Vinci system after a residency in the Columbia-Bassett General Surgery Program and a fellowship in thoracic surgery at the Mayo Clinic. Her own challenges in acquiring training on the da Vinci inspired her to want to offer Vanderbilt residents an easier path.
"During my fellowship, I was fortunate enough to win a scholarship to go to Atlanta with one of my incredible surgical mentors."
"We didn't have formalized curricula during my training, so I designed my own, seeking any available opportunities to bolster my skills," Gillaspie said. "During my fellowship, I was fortunate enough to win a scholarship to go to Atlanta with one of my incredible surgical mentors to train on simulators and in a tissue lab. The experience was unparalleled. In preparation, I completed online training, attended dry labs and spent 50 hours practicing on the console before and after work to develop the muscle memory to use the robot intuitively."
When Gillaspie began to research curricula to offer Vanderbilt residents, she found she needed to look inside and outside the field. At that time, thoracic surgery as a subspecialty lacked even a proposal for a formal robotic surgery curriculum at the national level.
"In creating the curriculum, I began with my own experiences and additionally looked to hospital credentialing requirements to ensure we were preparing the residents in a way that they would be ready and certified for independent practice," Gillaspie said. "I also reached out to colleagues in other institutions to draw on a variety of training experiences. We built a curriculum together."
Training All Surgeons
Now in its second year, the robotic surgery training program at Vanderbilt follows a course of graduated experiences that Gillaspie and colleagues developed. After online training and a minimum number of hours on a dedicated simulator, residents practice fundamental skills on the da Vinci in a dry lab environment, then later in a wet lab using tissue models. As residents advance into the OR, they will assume progressive responsibilities from initially putting in ports, docking the robot and exchanging instruments to eventually performing critical portions of operations.
Gillaspie knew from the onset that for efficiencies of scale—based on the time and resources needed to have da Vinci bring in robotic consoles—the program must extend beyond thoracic surgery. As she reached out to Vanderbilt colleagues like Meredith Duke, M.D., and Joseph Broucek, M.D., in general surgery; Lauren Prescott, M.D., in OB/GYN; and Kristen Scarpato, M.D., in urology, the scope continued to expand.
"The idea of a formalized robotics curriculum was met with incredible enthusiasm across Vanderbilt."
"The idea of a formalized robotics curriculum was met with incredible enthusiasm across Vanderbilt. We all realized what we could accomplish by partnering," Gillaspie said. "By the time of our first dry lab with a robot last fall, we were able to train general surgery, urology, OB/GYN, thoracic surgery residents, and even medical students."
Next Steps
In May, Gillaspie and colleagues led residents through a week-long series of wet labs on two da Vinci consoles. Each day of the week focused on a different surgical subspecialty. All levels of surgery trainees were welcome. "At any time, we have a senior and junior resident on each console and somebody at bedside changing the instruments—so three residents working together on advancing their skills," Gillaspie said.
The final step to launching the program will be a certification for residents. "Once the residents have completed the full training, our goal is to provide a letter reflecting review from direct observation as well as an independent review certifying their technical skills," Gillaspie said. "Our goal is to produce excellent, proficient and independent robotic surgeons."
Gillaspie says that simulation and other emerging technologies will assist clinical educators with training residents for the future. Ultimately, the rapid pace of change is a good thing. "I don't see the technology presenting challenges, I see it bringing everyone together," Gillaspie said.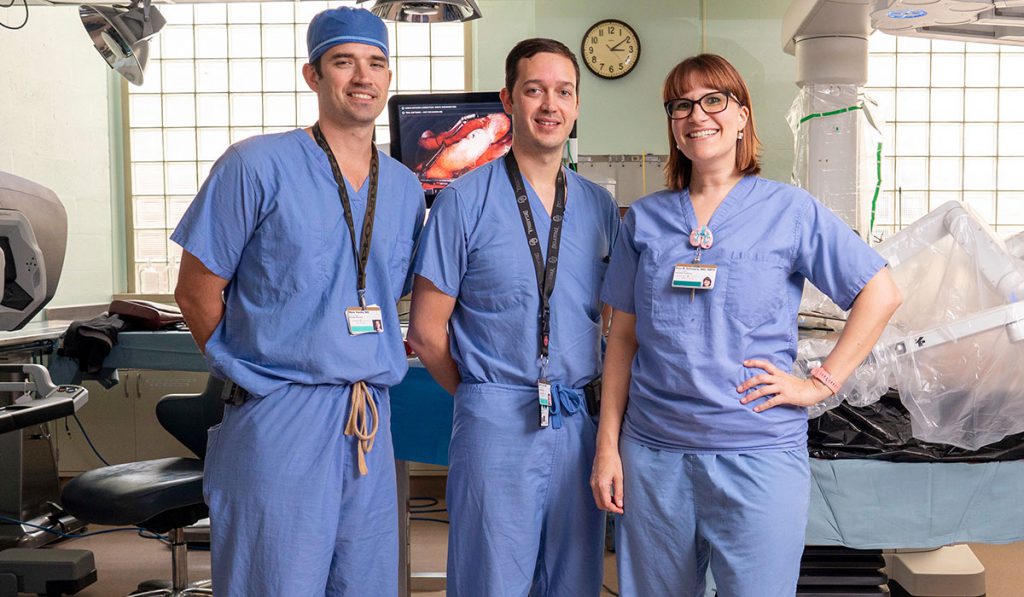 Gillaspie with residents Mark Hardin, M.D., (left) and Daniel Freno, M.D. (right).