April 24, 2019
New micro-scale system built by urologic surgeons could transform the endoscopic arena.
Surgery through a conventional rigid endoscope isn't nimble or accommodating to the ideal range of surgical tools. To Duke Herrell, M.D., a urologic surgeon at Vanderbilt University Medical Center, the feeling of operating with one hand bound had long suggested the endoscopic toolkit needed an innovative leap.
Herrell is co-inventor of a new system that could vastly improve agility for endoscopic surgeons, lessen procedural morbidities and widen the surgical arena for endoscopic approaches. Herrell developed the technology in partnership with longtime collaborator Robert J. Webster III, Ph.D., a professor of mechanical engineering and urologic surgery at Vanderbilt. At the crux of their new endoscopic platform is a set of tentacle-like, needle-sized arms that Webster first experimented with in graduate school.
"Give people better tools, they'll be able to do more complicated and better surgery."
"Our supposition is, if you give people better tools, they'll be able to do more complicated and better surgery," Herrell said.
Earlier this year, Herrell and Webster received a National Institutes of Health R01 grant to investigate applying their hand-held robotic system concept to perform endoscopic transurethral radical prostatectomy and suturing. The two have also founded a company, Virtuoso Surgical, to usher the technology forward for treatment of other diseases, such as benign prostate obstruction, airway blockages and even endoscopic brain surgery.
Two Hands Are a "Game-changer"
The system that Herrell and Webster developed comprises two, independently movable nitinol tube arms and a rod lens fed through an eight millimeter endoscopic element. The surgeon's control interface is a joystick-like input and viewing screen.
In designing the system, Herrell and Webster considered requirements including manipulator miniaturization; opposable, two-handed functionality; and the need to decouple the surgeon's field of vision from physical movement of the endoscope. Herrell says the prototype affords range of movement and control on a much smaller scale than currently available Intuitive Surgical da Vinci systems.
"We've made robotic tools about ten times smaller than standard surgical robotic tools on the market today."
"By harnessing the super elasticity of nitinol—the same metal used in cardiac stents—we've made robotic tools about ten times smaller than standard surgical robotic tools on the market today," Webster said. "This enables unprecedented dexterity in small spaces inside the body, enabling more accurate and less invasive surgeries."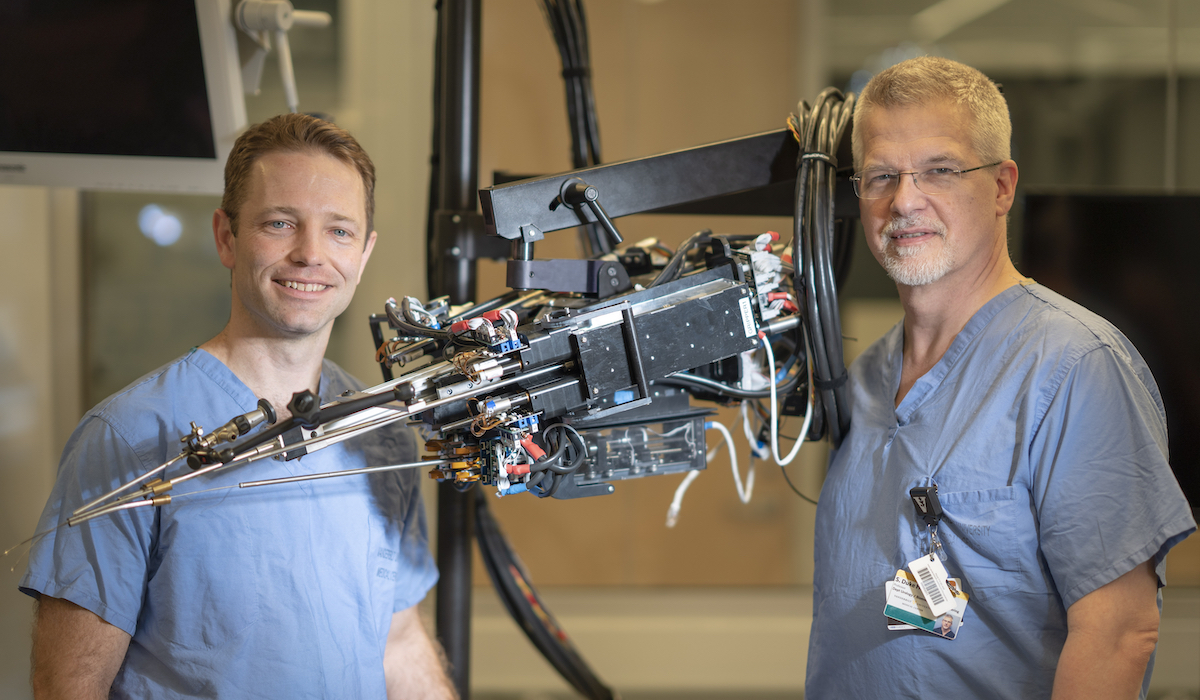 Endoscopic Transurethral Prostatectomy
Under the R01 grant, the team will investigate if their endoscopic system could safely and effectively resect the cancerous prostate and complete reconstructive suturing through the open lumen of the urethra. For men with prostate cancer who elect surgery, this could reduce invasiveness and potentially rates of impotence, incontinence and other complications compared to current surgical approaches.
To perform the prostatectomy and suturing, the device will be outfitted with a holmium laser fiber on one arm and a grasper on the other. Under the grant, testing will include phantom, ex vivo and cadaver studies.
The potential to suture tissue endoscopically at such a small scale could have dramatic surgical applications. Said Herrell, "It takes considerable maneuvering and cutting to get to the prostate. After removing the prostate, you need to bring the bladder and urethra back together. We can do that with a robot inserted through incisions on the abdomen today, but doing it endoscopically with no external incisions is incredibly difficult. If we can demonstrate this is possible with prostatectomy, endoluminal suturing has the potential to improve the effectiveness of surgeries throughout the body."
Supporting Surgeon Innovators
Herrell and Webster are founding members of the Vanderbilt Institute for Surgery and Engineering (VISE), a collaborative research institute that brings together engineers from Vanderbilt University and physicians from across the medical center. VISE projects in the pipeline today span all areas of surgery and include imaging, guidance and robotic systems.
"Most big leaps in the OR are made in technology," Herrell said. "VISE is so special because it nurtures our capacities not just as expert surgeons, but as surgeon innovators—giving us a forum to explore innovations."
"The close collaboration with surgeons in VISE enables us to solve real problems," Webster said. "Having engineers work side by side with world-class surgeons like Dr. Herrell is the key to developing practical innovations that can ultimately help surgeons save lives."