December 11, 2018
Evidence supports safety and efficacy of buccinator injections guided by EMG.
EMG-guided onabotulinumtoxin A (Botox) injections into the facial muscle, combined with facial retraining therapy, has become the gold standard for treating facial synkinesis. (Nerve transfer surgery to reanimate facial or extraocular muscles is limited to patients with permanent paralysis of the facial nerve.) However, targeting the appropriate synkinetic muscles responsible for a patient's primary symptoms is critical.
"While neuromodulators have proved quite effective in managing synkinesis, our community as a whole overlooked the buccinator muscle as a target."
A recent study identified potential benefits of targeting the buccinator muscle, which plays an important role in lateral excursion of the mouth and mastication, alongside other facial muscles. To clarify the effect of treating the buccinator muscle alone, researchers led by Scott Stephan, M.D., director of the Facial Nerve Program at Vanderbilt University Medical Center, isolated buccinator muscle treatment to test its role in improving outcomes. The results of their study were recently published in JAMA Facial Plastic Surgery.
"While neuromodulators have proved quite effective in managing synkinesis, our community as a whole overlooked the buccinator muscle as a target," Stephan said. "We wanted to find out if treatment of the buccinator improved patient symptoms."
Details of the Buccinator-BT Study
All patients treated for facial synkinesis at Vanderbilt Bill Wilkerson Pi Beta Phi Rehabilitation Institute and Department of Otolaryngology over the course of one year (February 2016 to February 2017) were considered for the treatment. Consenting patients completed a Synkinesis Assessment Question (SAQ) on the day of each treatment and two weeks after the injection.
A divergence from the earlier study was the use of needles guided by electromyography (EMG) to target the buccinator muscle (demonstrated to detect synkinesis that is not visibly obvious). To allow for more precise delivery of BT into the buccinator, confirmation of oculo-oral reinnervation was possible by identifying increased EMG signal associated with eye closure. The downside of this approach was that it required a larger bore needle, requiring more topical analgesia for patient comfort.
SAQ outcomes were compared between treatment cycles in which patients did not receive a buccinator injection and subsequent cycles in which the buccinator was treated. The treatment was repeated every three months up to the one-year period, and SAQs were completed post-treatment. In sub-analysis of questions relevant to buccinator function (facial tightness and lip movement), buccinator treatment showed significant improvements.
"So many of our patients experience tightness and tenderness in the mid-cheek area coupled by a frozen, immobile corner of the mouth," Stephan said. "Buccinator treatment with BT for synkinesis targets both of these problems."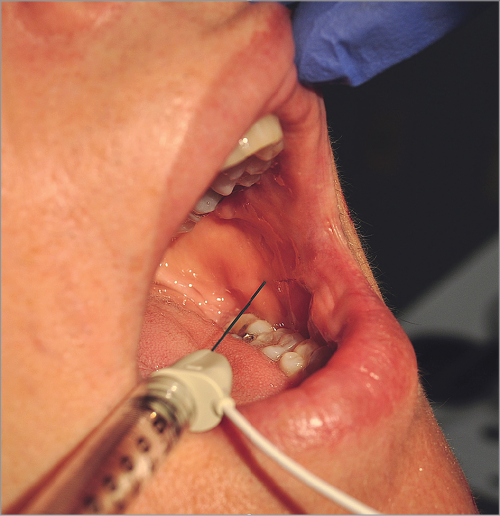 The Future of Buccinator Treatment
While there are some concerns regarding injection of the buccinator because of its proximity to the parotid duct, the Vanderbilt study found no evidence of salivary dysfunction as a result of buccinator injection. Because most buccinator muscle bulk lies anterior to the parotid duct, combined knowledge of the facial anatomy and expertise in EMG guidance allowed for targeted injection without affecting surrounding structures.
"The buccinator muscle holds real promise," Stephan said. "This intervention can be safely used in carefully selected patients who are undergoing injections of synkinetic musculature as part of facial rehabilitation."