October 31, 2022
Get inspired to forge creative ways to influence people around you, and get some ideas on how to increase your own climate literacy.
"I think if you're interested in this topic or worried about this topic, understand that climate change is a wicked problem and we are not going to solve this as an individual. We're also not going to solve it in a silo. The first thing you can do is increase your own climate literacy and begin to talk about it with your patients and with your colleagues," said Eva Parker, MD, Assistant Professor of Dermatology, and a leading climate voice in the national dermatology community.
Grasping the big-ness of climate change is challenging for many. It always seems to be happening to other people, in other places — what does it really have to do with you
"We all live within our own bounded rationality of what we have the capacity and the training to pay attention to. For most people in the healthcare field, our bounded rationality is what happens within the walls of the hospital — looking at the patient in front of us, treating the patient in front of us.'Oh, what's the carbon footprint of all the supplies that the hospital is getting from particular suppliers?' That's just outside of our bounded rationality. No matter how excellent someone is as a physician, that's not information that we're trained to attend to at all," said Kelsey Barter, a fourth-year student at Vanderbilt University School of Medicine who has influenced the climate conversation on campus.
The impacts on wellbeing show up in a plethora of ways. Barrington Hwang, MD, a resident in the Department of Psychiatry and Behavioral Sciences, explains how temperature can impact medication prescribing in his field,, acute stress following a natural disaster can be chronic, and the concept of solastalgia, which is "the distress that is produced by environmental change impacting on people while they are directly connected to their home environment," as described in a 2007 paper in Australas Psychiatry. 
Subscribe anywhere you get podcasts so the next two episodes, "How To… Fill In The Knowledge Gap" and "How To… DIY Climate Action," download to a phone automatically. 
Related Articles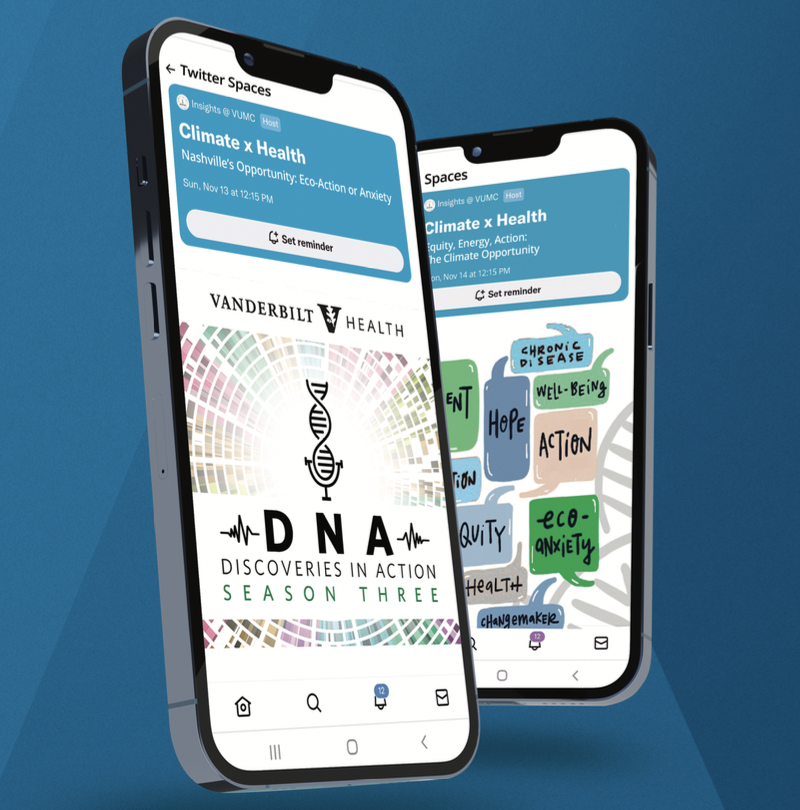 JOIN THE DNA TWITTER SPACES CHAT