November 30, 2022
Vanderbilt is providing feedback to assess how well MIPS measures are meeting goals for geriatric patients.
Vanderbilt University Medical Center's Center of Excellence in Geriatrics is one of 48 designated sites in the country participating in the Geriatric Workforce Enhancement Program (GWEP) to better educate health-care workers on geriatric best practices.
Through this program, which is part of the U.S. Health Resources and Services Administration (HRSA), Vanderbilt Professor of Geriatrics James (Jim) S. Powers, M.D., and others are examining data and providing feedback on the Merit-based Incentive Programs (MIPS) administered through GWEP, with a focus on measuring and tracking quality improvements.
"We are providing feedback on how well the targeted education that we provide to health care professionals and caregivers affects key outcomes measures, like falls reduction, caregiver distress and depression, and increases in advance directives," said Powers, who also serves as director for clinical innovation at the Tennessee Valley Veterans Affairs Geriatric Research, Education and Clinical Center.
"We are reporting both changes and the absence of change, but all of this feedback is valuable for refining the measures."
MIPS Measures
MIPS measures are used by the Centers for Medicare and Medicaid Services (CMS) to assess quality of clinical care. These metrics contribute to reimbursement parameters for practitioners and health-care systems.
"CMS began the MIPS initiative about 10 years ago to measure whether what we do in clinical practice provides clinically meaningful improvements in quality, and to encourage and reward clinicians and health systems to provide quality care," Powers said. "With over 800 potential quality measures, CMS is constantly reevaluating their usefulness for different medical specialties."
GWEP Programs as Vehicle
Powers and Sandra Simmons, Ph.D., director of the Vanderbilt Center for Quality Aging, manage GWEP at Vanderbilt.
"HRSA wants to understand the effectiveness of things like educational programs for providers and patient and caregiver support groups in changing care," Powers said.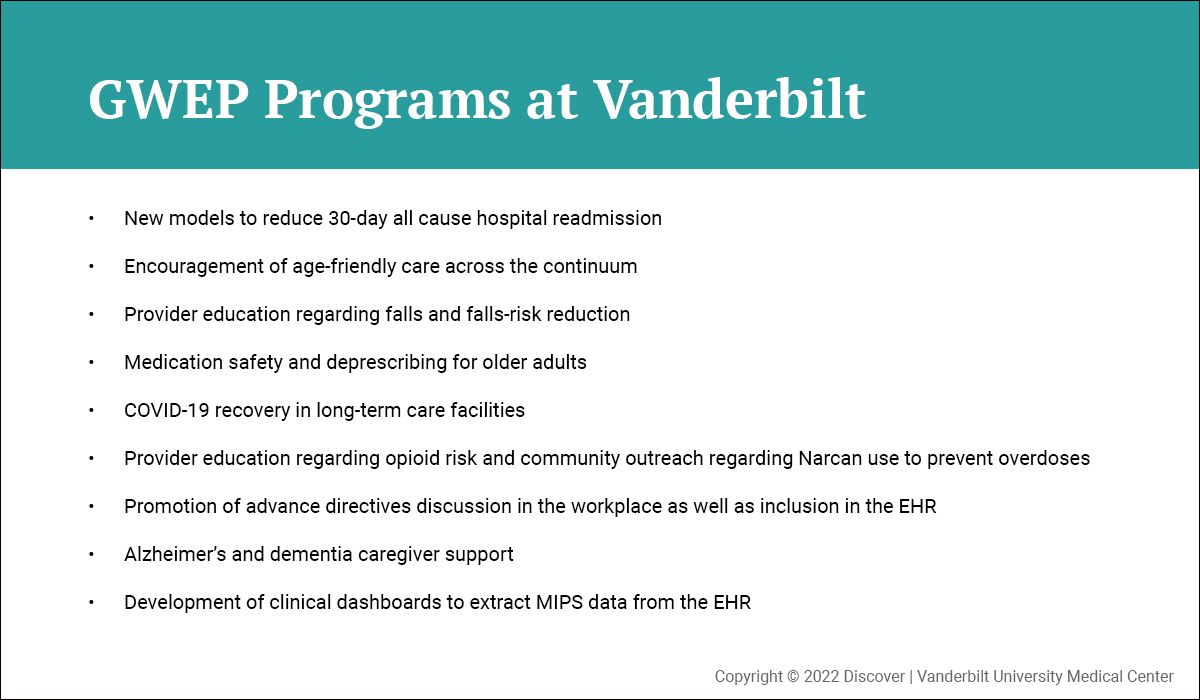 Advance Directives Rise
One of the high-priority MIPS targets is promotion of advance directives. Only 33 percent of adults and 42 percent of older adults complete documents attesting their medical care wishes and assigning a decisionmaker in the event of their incapacity.
Working through employers and human resources directors, the Vanderbilt GWEP has educated thousands of individuals on the importance of advance-care planning and provided resources to discuss with their providers. The program's nurses, working with providers in Vanderbilt outpatient clinics, have increased the rate of advance-care planning documentation in the EHR from a baseline of 52 percent to 63 percent, Powers said.
Education on Falls in Progress
Falls are a leading cause of death in older Americans. While they may reflect an inevitable trajectory of decline, in many cases they are preventable.
"HRSA asked us to evaluate educational programs designed to prevent falls, improve gait and balance, and other measures," Powers said. "They also want to find out how feasible it is to incorporate falls risk-reduction programs into various health-care delivery settings."
Accurate measurement of the impact of work in falls risk is widely acknowledged as elusive, Powers said, but the Vanderbilt GWEP is addressing the challenge. As part of that work, colleagues at Meharry Medical College are instructing their family medicine residents to provide falls assessments, falls risk-reduction measures and mobility assessments. Collaborators at Middle Tennessee State University are asking their exercise physiologists to work on these efforts in the long-term care setting.
"Our work with EPIC was revolutionary to the folks from HRSA. They were particularly interested in our dashboard that tracks how many people are completing advance directives and are provided with age-friendly care."
Virtual Support for Alzheimer's and Dementia Care a Home Run
About a quarter of the MIPS funding is directed toward caregivers and patients dealing with Alzheimer's disease and related dementia. In such cases, Powers recommends that MIPS guidelines emphasize virtual support groups to lower distress in family caregivers.
"Feedback from the caregivers is that they feel very supported," Powers said. "They can participate in these groups virtually while continuing to be caregivers. While we don't have evidence that this lowers depression, we do see significant reductions in distress."
The GWEP is also providing an online assessment of caregiver needs, followed by an individualized one-on-one appointment with a counselor. This program enjoys broad popularity among human resource directors and employees trying to balance work and caregiver duties for older family members.
EPIC Answers
Powers says their GWEP's advanced ability to provide input into EPIC, the EHR system, and harness that data is a tremendously rich resource for measuring work force education outcomes and informing MIPS measures.
"Our work with EPIC was revolutionary to the folks from HRSA," Powers said. "They were particularly interested in our dashboard that tracks how many people are completing advance directives and are provided with age-friendly care."
He says it is hard to overstate the value of harvesting EHR data to know who they are reaching and how effectively the care they provide alters quality measures over time.
"We're just beginning to scratch the surface of all we can learn to help set quality measures and assess their effects on health outcomes," he said.