October 06, 2022
The PytuTester developed by critical care physicians and bioengineers enables testing of DIY ventilators in low-resource countries.
Mechanical ventilators for patients living in low-resource regions were in short supply during the COVID-19 pandemic and, in response, universities and engineers around the world assembled prototypes for do-it-yourself equipment in those countries.
Unfortunately, a lack of adequate testing equipment for the DIY products precluded their use in many of the regions that needed them the most. 
Stepping in to come up with a solution was Vanderbilt University Medical Center pulmonary specialist Michael Kammer, Ph.D., a biomedical engineer and research assistant professor who worked with medical officials in Paraguay to develop such a test.
Through a partnership with the National University of Asunción (UNA) in Paraguay, Kammer provided support for the design and validation of the PytuTester, a reliable device that can be assembled in two days, from parts totaling just over 500 U.S. dollars.
"We believe that our story not only describes an innovative approach to this particular problem, but also provides a framework for future responses to global crises," Kammer said.
The process also set the stage for a nascent "FDA," or Department of Standards, in Paraguay, which will serve to establish and enforce standards for test equipment in the future.
Half the Battle
Ventilator testers measure the reliability, flow, pressure, volume, consistency of tidal volume, and oxygen concentration provided to the patient per standards established by the International Organization for Standardization.
Shortly after the pandemic started and the rush to design and build ventilators followed, Kammer recalls a flurry of papers and editorial guidelines from professional societies cautioning people against using DIY homemade ventilators for prolonged periods of time over the valid concern about causing further lung damage.  
"People would build them, and then there was no way to test and validate them," he said.
"We believe that our story not only describes an innovative approach to this particular problem, but also provides a framework for future responses to global crises."
WhatsApp Mission
At the start of the pandemic, a friend of Kammer's from Paraguay sent him an article from a newspaper in the capital city of Asunción about efforts by engineers at UNA to build DIY ventilators. At the time, the country was also battling a historically horrific Dengue outbreak that was straining health care resources.
Kammer answered the call.
"We started with ventilators," he said. "I partnered with engineers at UNA, and we developed these largely over WhatsApp, sending voice notes, videos and sketches back and forth."
The next challenge was how to produce a DIY tester. Paraguay had no manufacturing infrastructure for testing equipment. However, the team was soon joined by a bioengineer from Peru, which had previously implemented a ventilator validation system. Together, the team members conceived, designed and sourced parts for what ultimately became the PytuTester.
"While a lot of people were busy putting together ventilators, we were already thinking about the testing device."
Benefits of the PytuTester
Hardware and software are all open-source.
Its battery and 3D structure provide portability.
The software's extensible graphical interface.
Medical-grade sensors.
A configurable sampling rate of up to 30 ksps.
Configurable operation modes enable multiple analyses.
Total cost: about $500.
The PytuTester and Raspberry Pi
Their goals were to create an open-source tester that maximized affordability, portability and accuracy of measurements. The device had to be made from readily accessible parts, have medical-grade sensors and an uninterruptable power supply (UPS) module.
"We based the design off of a commercial-grade gas flow analyzer that is available in the United States," Kammer said.
The team chose an off-the-shelf Raspberry Pi as the processing unit, which runs on a general-purpose operating system called Raspbian.
"We ended up with a device that allows a sampling rate over 200 samples per second, configurable operation modes, real-time visualization, and monitoring of the most relevant values. It also has the capacity to record all relevant data and perform post hoc analysis – all for about one tenth of the cost of a commercial tester.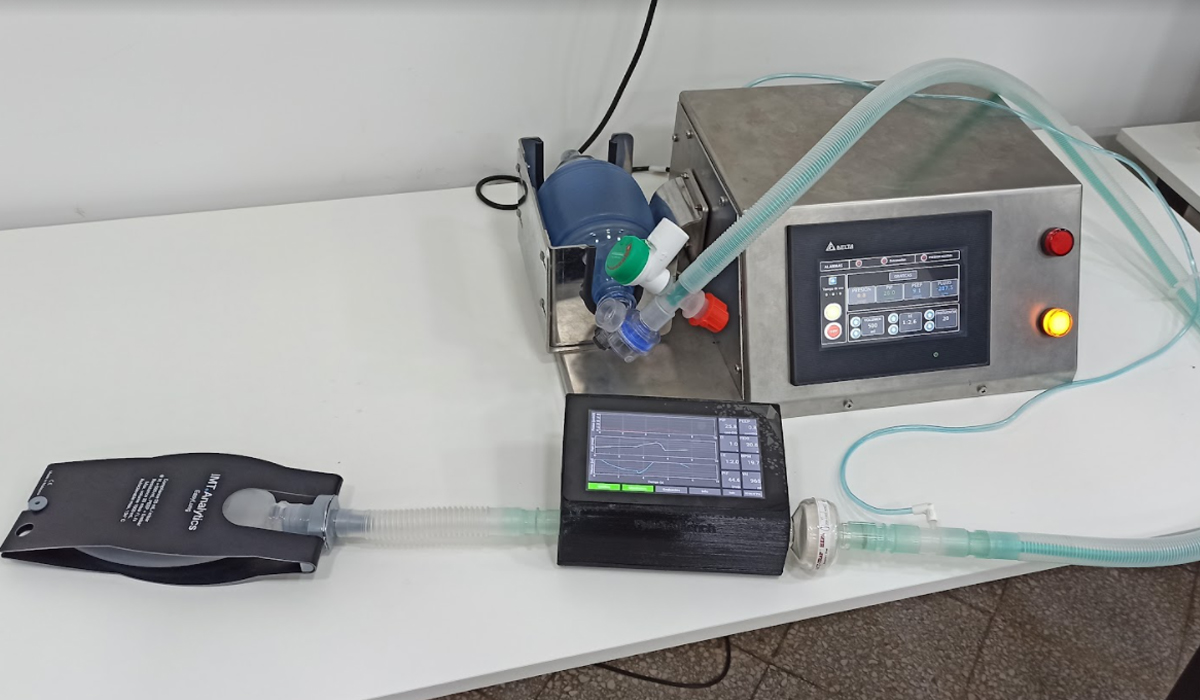 The Tester, Put to the Test
When the PytuTester was tested on two ventilator designs in Paraguay, its flow profile reports were concordant with the industry standard VT650 Gas Flow Analyzer. The device was then field-deployed and shown to be successful in testing several other DIY ventilator designs in low-resource areas.
"I think the strength of our approach was that while a lot of people were busy putting together ventilators, we were already thinking about the testing device," Kammer said. "My postdoc mentor, the late Pierre Massion, always emphasized the point that everything we do starts with 'How will this help the patient?' We work backwards from there."
Not only has the collaboration set the stage for a formalized standards agency in Paraguay, but it has created a template for engaging in informal communications to incubate pragmatic, life-saving ideas.
"COVID is not going to be the last pandemic, and whatever the next one is, we will no doubt need these kinds of holistic solutions if we are going to help countries with economies that can't support expensive equipment purchases," Kammer said.